The Rt. Rev Keith Whitmore, Celebrant and Preacher through September, 2019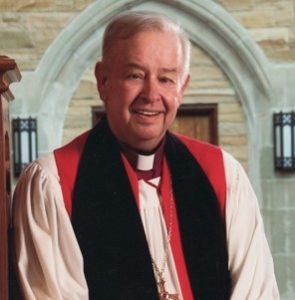 Bishop Keith was consecrated Bishop of Eau Claire (Wisconsin) in April 1999, and in April 2008 became the Assistant Bishop of the Diocese of Atlanta.
While serving as Assistant Bishop in Atlanta, in 2012, Bishop Keith was called to an additional ministry as a Distinguished Visiting Professor at the Candler School of Theology at Emory University. Candler's Episcopal Studies program is the oldest university-based program in the nation with more than 200 student graduates since 1974. In the fall of 2012, Whitmore was named the Interim Director of the Episcopal Studies Program, and the position was made permanent in 2013.
Prior to becoming Bishop of Eau Claire, Bishop Keith served as Dean of Christ Cathedral, Salina, Kansas. Previously, he had served as Rector of congregations in Wisconsin, Missouri and Kansas.  Bishop Keith also served as an Army Chaplain, retiring after 27 years of service.  He has served on the Standing Commission on Ministry Development of the Episcopal Church and on the Episcopal Church's Joint Committee on Program, Budget, and Finance.
He is the former president of the Domestic Missionary Partnership and Affirming Catholicism, organizations devoted to the mission of the Church.     He has also served as a trustee at Nashotah House Seminary and Berkeley Divinity School at Yale. Currently he serves as the Chaplain to the Anglican Association of Musicians and the Brotherhood of St. Andrew.
Bishop Keith was ordained Priest and Deacon in 1977. He has undergraduate degrees in Mechanical Engineering and Theology from the University of Wisconsin, Madison, and holds a Master of Divinity and a Doctor of Divinity from Nashotah House Seminary.
For 25 years Bishop Keith has been, and continues to be, a much-sought-after lecturer and workshop leader in congregations around the country, with a particular expertise in Parish Development, Leadership Development and Vision and Goal Setting. He is a dedicated mentor of young priests.
Bishop Keith retired from his positions in Atlanta and at Emory in early 2017. He and Suzie, his wife of more than 40 years, then returned to their roots, and a new home, in Wisconsin. They have two grown children.
The Rev. Elaine Mary Farmer, Celebrant and Preacher through June 24, 2018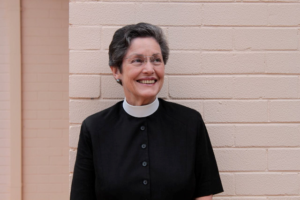 The Reverend Mary Elaine Farmer (Elaine) is an internationally active scholar, teacher, and author in the Anglican Communion. A native Australian, she received a Bachelor of Theology from the Sydney College of Divinity, a Masters in Theology from Charles Sturt University, and was ordained priest of the Anglican Church of Australia in 1994.
Now holding a Bishop's Authority with Special Responsibility for Preaching and Homiletics in her home Diocese of Canberra and Goulburn, she serves as an Honorary Assistant Priest at All Saints' Anglican Church, Canberra, and is also a member of the council of St Andrew's College, University of Sydney.  Throughout her ordained life, Mother Elaine has pursued a career that has combined her roles as priest, teacher, mother and wife of a senior Australian diplomat, William John Farmer, AO (Order of Australia).
Mother Elaine has accompanied her husband on postings to Egypt, the United Kingdom, Fiji, and three assignments with the Australian Mission to the United Nations in New York City (1970, 1980 and 1984–1987).  These appointments were followed by ambassadorial appointments in Mexico, Central America and Cuba; Papua New Guinea; Malaysia; and Indonesia (Australia's largest diplomatic post).
Ambassador Farmer's postings have taken Mother Elaine to places where women were not, and still are not, recognized or permitted to function as priests in the Anglican Church. Nonetheless, in Papua New Guinea, as wife of the Australian High Commissioner (Ambassador), Mother Elaine established and led a group called 'Women Exploring Faith', and reviewed the preaching of final year ordinands at the Bomana Roman Catholic Seminary.  In Kuala Lumpur, Malaysia, again the wife of the Australian High Commissioner, she participated in workshops and conferences on interfaith relations, working with Sisters in Islam, and preached at St. Mary's Anglican Cathedral and in various parish churches.  Most recently, resident in Jakarta, Indonesia (2005–2010), as the wife of the Australian Ambassador, Mother Elaine organized and led memorial services on the occasion of several national crises and disasters in Indonesia involving members of the Australian Embassy and community, and pursued her priestly vocation in preaching engagements in New Zealand (St Paul's Cathedral, Wellington); Australia (St George's Cathedral, Perth, St Peter's Cathedral, Adelaide and churches in her home diocese); and in the United States (Trinity Church, Wall Street, NYC, Christ Church, New Haven, Church of the Transfiguration, NYC, and All Saints' Pontiac Michigan).
Among a small group of orthodox yet forward–looking clergy in the Anglican Communion, Susan McCone and Mother Elaine became friends during their association at Christ Church, New Haven, and in their work together for Affirming Anglican Catholicism, a progressive Anglo–Catholic movement in the international Anglican Communion.
A book of Mother Farmer's sermons, … And the Angels Held Their Breath, was published in 2006 to critical acclaim and has been translated into Bahasa Indonesia.  She was a contributor to a second book on preaching and liturgy, Don't Put Out the Burning Bush(2008), has written articles on topics ranging from theology, liturgy, preaching, marriage, cooking, and the place of women in the church, as well as several children's books.