The Music Program
The Music Program at St. John's is a vital component of the life of the church. Music is an integral part of worship and every member of the music program is committed to provide quality liturgical music.
Music offers us an opportunity to come together in a community of creative spirit. The timeless sound of sacred music suggests another way of being, separate from the everyday. It combines both the sacred and human dimensions and its sound world is a place where we can be made more apt for the Divine.
As we pray every Thursday evening at rehearsal, we come together to "perfect the praises offered by Your people on earth." This refers not only to Sunday mornings, special services and rehearsals. We pray for guidance throughout our lives. The commitment to the singing of sacred music does not stop at the end of Sunday morning. It is a way of life that informs how we choose to live our lives.
As human beings, we long for the transcendent. Our souls sense Deep calling to deep. The holy blend of sacred sound and sacred text blesses those who sing and those who listen.
Unless one believes, truly believes, in what one is doing, it is impossible to sing with understanding. And understanding is not easily come by. It takes a creative mind to respond the Creator's mind. It takes a holy spirit to receive the Holy Spirit.
The goal, then, is to strive for that blend of body, mind and spirit; to try to balance them and pray for peaceful co-existence of all. And in that struggle lies the sublime expression of the Word of God.
Dr. Marguerite Mullée is a well-known conductor, singer and clinician. She is a graduate of Columbia University, where she earned a doctorate in Conducting and Vocal Pedagogy. In addition to serving at St. John's Church, she is Professor of Liturgical Music and Sacred Art at Holy Apostles College & Seminary (Cromwell CT) and music consultant for Our Lady of Grace Monastery (Guilford CT).  Read More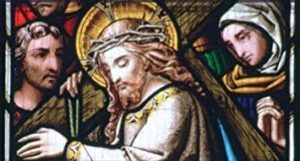 Lenten Sacred Music and Readings at St. John's Church in Washington. On Sunday, March 22, 2020 at 4PM, the St. John's choir, conducted by Marguerite Mullee,  will present Lenten Sacred Music and Readings. This distinctive program of sacred choral music, scripture readings and poetry was developed by Dr. Mullee and features timeless music including works by Mozart, Stainer and Gibbons. There will be readings from Scripture as well as poetry featuring T.S. Eliot, Chris Price, W.H. Auden, John Donne and Wendell Berry. Reception to follow. Free will offering.
CHANT WORKSHOP w/ Dr. Marguerite Mullée, Music Director
Tuesdays 7:00PM – 8:30PM, Parish House Music Room
March 10, 2020 – April 7, 2020
With a Special Good Friday Public Presentation
Friday, April 10, 2020, 12:00 noon
Chanted Passion, Lenten Chants and Motets
Fee: $95 (includes all materials)
Singers of all skill levels invited
ST. JOHN'S CHOIR
  The St. John's Choir sings the liturgies of Holy Eucharist and Choral Evensong from September through early June, offering psalms, canticles, anthems and motets from our rich Anglican musical heritage. Additionally, the Choir sings at special liturgies, including Christmas Eve and the Triduum of Holy Week.  Our repertoire draws from a broad range of musical styles: plainsong, Renaissance polyphony, Baroque chorales, Classical choruses, Anglican Chant and English anthems from the 16th century to the present. The Choir is open to members of the Parish as well as the community.
For more information or to schedule an audition, please contact Dr. Marguerite Mullee at musicdirector@stjohnswashington.com or 860-868-2527.
He who sings prays twice - St. Augustine.  It is said that music reaches the soul when words cannot and that the combination of words and music can move into the very core of humanity. God's love, care, and strength have been imagined through music more effectively than words can convey.  The beginning comes in the marriage of music and text. The result of that marriage can be a conduit into that thin space where God is so keenly felt. It is found in the warmth and assurance of Maurice Duruflé's setting of Ubi Caritas (Where true love and charity are found, God is there) or in the strength and power and lamentation of Anton Bruckner's Christus factus est(Christ became obedient for us unto death, even to the death, death on the cross). The goal is for the singer and conductor to become joined with the music. It is an ever evolving process and sometimes the most poignant revelations come at the last. It is so closely related to spiritual development, a revelation that occurs from one minute to the next can open a new vision of God's love.