St. John's Mission of Outreach is guided by our general mission to be inclusive and witness in words and actions our commitment…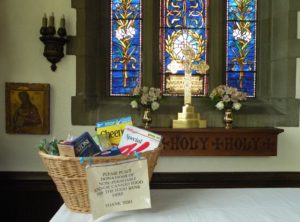 to serve Christ in all people, loving our neighbor as ourselves;
to respond to the needs of others around us with our hearts and hands and financial resources; and
to strive for justice, equality and peace among all people and to respect the dignity of every human being.
The programs were created to oversee St. John's various outreach. The Parish seeks to support persons, organizations and situations in demonstrable need and to express its commitment to its mission through its role in the community.
COMMUNITY OUTREACH
Various community outreach efforts are made as needs arise in the local area.
ON-GOING OUTREACH
St. John's Fund: The St. John's Fund, solely supported by the Parish, is administered by the Town of Washington. Its funds are available to assist Washington residents faced with a financial emergency whether it is for food, fuel, medical expenses, or other urgent necessities.
Food Collection:  An on-going effort overseen by the Outreach Committee for the benefit of local food pantries
Angel Tree: Collection of toys for children in shelters or designated by children services agencies
Easter Baskets: Filling baskets with collections of small books and candy
Back-to-School-Backpacks: Filling backpacks with school supplies for children designated by children services agencies
Thanksgiving Pies:  The Committee, assisted by the children from the Church School, make pies which are contributed to the Town's Thanksgiving Baskets