What's going on now?  School Supply Backpack Drive
Being equipped with the proper tools for school is essential to academic success.  However, for many school-aged children, education has taken a backseat due to greater family needs such as food and utilities.
St. John's Church is working with Covenant to Care, Hartford, to assist in outfitting school-aged children and teens whose families are unable to purchase needed school supplies.  Each year, St. John's collects or purchases back-packs, pencils, notebooks, pens, paper, rulers and other supplies for distribution.  By donating your gently used backpack with working zippers, buying a new backpack, donating or buying school supplies, or making a cash deductible donation (and St. John's will purchase supplies on your behalf), you will offer a low-income youth the needed school supplies for the upcoming 2019-2020 school year.
We've been asked to focus on the teens, which often get forgotten during these drives.  All items and funds collected will be transmitted to Covenant to Care, Hartford for distribution to area youth.  The drive will end on August 15th.
St. John's Mission of Outreach is guided by our general mission to be inclusive and witness in words and actions our commitment...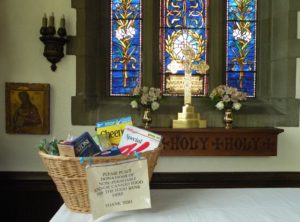 to serve Christ in all people, loving our neighbor as ourselves;
to respond to the needs of others around us with our hearts and hands and financial resources; and
to strive for justice, equality and peace among all people and to respect the dignity of every human being.
The programs were created to oversee St. John's various outreach. The Parish seeks to support persons, organizations and situations in demonstrable need and to express its commitment to its mission through its role in the community.
What are current needs?
Warren-Washington Food Bank Collection baskets for donations to the Warren-Washington Food Bank are located in the vestibules within St. John's Church.
What we do?
COMMUNITY OUTREACH
Various community outreach efforts are made as needs arise in the local area.
ST. ELIZABETH GUILD
St. John's Fund: The St. John's Fund, solely supported by the Parish, is administered by the Town of Washington. Its funds are available to assist Washington residents faced with a financial emergency whether it is for food, fuel, medical expenses, or other urgent necessities.
Food Collection:  An on-going effort overseen by the Outreach Committee for the benefit of local food pantries
Angel Tree: Through the month of December - collection of Christmas toys and gifts for distributions to children in shelters or designated by children services agencies.
St. John's has a partnership with Covenant to Care for Children (CCC) in Hartford and provides personal hygiene and household cleaning products.
Back-to-School-Backpacks: Filling backpacks with school supplies for children designated by children services agencies
Thanksgiving Pies: In November, members make pies which are distributed to local families in need through the Town of Washington.