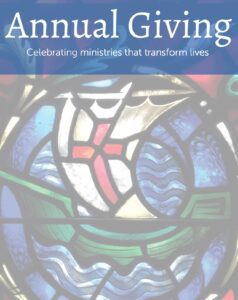 WHAT IT TAKES TO "BE CHURCH" TODAY
YOU!
Click the Donate button below - your pledge is an important expression of your commitment to St. John's very existence. If you believe that it is important for St. John's to BE Church in all the ways God calls us to be - a flourishing community of faith, a resource for service, and a center of hospitality in this place, at this time, the future depends on YOU.  Whether you are a longtime parishioner, a newcomer, a friend of the parish, someone who comes in to sit and pray in the middle of a weekday afternoon, your support is needed and appreciated.
If you have not yet made a pledge to the 2020 Stewardship Campaign, please consider doing so now. Many thanks to all who have given so generously to St. John's Church.
The goal is to renew our parish life working together to make a bright future.
Please remember St. John's in your estate planning. A bequest to the Church means a great deal to the continuing financial security of the Church. Today we benefit from the generosity of those who have remembered St. John's by their bequests. Call the Parish Office, 860-868-2527, for more information.
Click HERE to download and print the 2023 pledge card.
Click the Donate button below for your 2023 pledge.