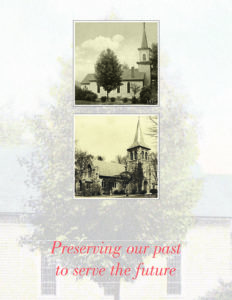 The Saint John's Foundation was established in 2015 as a 501(c)(3) tax exempt for the purpose of supporting programs focused on historic preservation, architecture, art, music, interfaith relations, and education in various areas, including ethics & spirituality without reference to any specific religious tradition. The Foundation has received formal approval of its tax exempt status by the IRS and therefore is eligible to receive matching gifts from corporations and grants from foundations.
The Foundation Mission ~ The Foundation was established principally for purposes of supporting historic preservation and restoration efforts   The Foundation also supports educational programs, publications, seminars, and symposiums relating to the broader Anglican tradition in such areas as interfaith relations, ethics, spirituality, liturgy, architecture, and music.
A St. John's Church has stood on the Green in Washington for 200 years. The current stone Church building was designed by Ehrick Rossiter to replace the original wood Church, which had been moved from Davies Hollow to the Green in 1815.  The cornerstone for the stone Church was laid on May 19, 1917, and construction was completed in time for Easter services in 1918.
Nearly 100 years later, it became clear that St. John's historic buildings – the Church and the Rectory, along with the Parish House and the Cottage – although basically structurally strong, needed substantial repair and restoration. Read MORE on the first two hundred years of St. John's.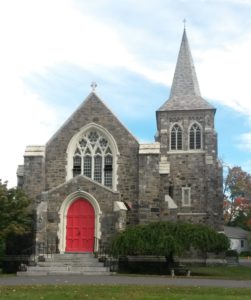 THE YEARS 2015 to 2017
After 100 years, the Church stood in need of substantial restoration.  Although structurally sound, the slate roof needed to be replaced, the mortar repaired and replaced, and all of the windows restored.  In addition to the historic stone Church, restoration work also needed to be done on the Rectory (part of it dating from 1750 and one of the three remaining Leavitt houses on the Green), as well as the Parish House and Cottage which was moved from the Gunnery property in the late 1920's and was the early home of the Washington Montessori School.
From 2012 through 2015, as funds were raised, projects were undertaken: the reinforcement of the Parish Hall roof trusses, the restoration of the Memorial stained glass window in the Lady Chapel of the Church, structural and exterior work on the Rectory, the replacement of the boiler and hot water tank in the Rectory and the boiler in the Church, and installation of new temporary covers for the window wells.  Most significantly and visibly work on the repair and replacement of the roof began in mid-November 2016 and was completed spring of 2017.
Read MORE on all the restoration work that has been completed through 2017.